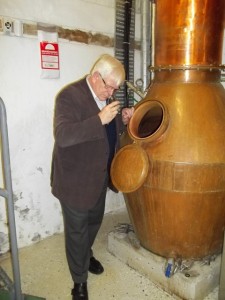 On June 30, in the Jasienica lounge, Toorank Polska presented its first single grain whiskey – Wild Fields. Distilled from rye, aged over three years.
There are two versions, both 44%, not cold filtered, distilled in December 2014. Wild Fields Original aged in Polish oak, in barrels with a capacity of 225 l, sealed with calamus, baked but not fired.
Wild Fields Sherry Cask was aged in 250-cc sherry casks. John McDougall, who presented the results of his work in Jasienica, was responsible for the selection of barrels, flavor compositions and period of aging.
John McDougall is currently a director of his family's whisky & spirits company, is a master distiller, and master blender, and has variously managed high profile distilleries such as Balvenie, Laphroaig, Tormore and Springbank.
John McDougall – I have been in the whiskey industry for 57 years, I have seen huge changes in this industry. Over three years ago I started cooperation with Toorank to prepare one of the first Polish whiskeys. My uncle, Włodek Nowosielski, comes from Krakow, he married my mother's sister.
– John McDougall said. – I would never get involved in any project if I was not sure that the final product would be of the highest quality.
Here at Toorank Polska, the quality guarantee was/is a team of experienced people who have previously worked with traditional Polish aged alcohol.
The traditional and regional character of spirits is what connoisseurs are looking for.
Miodula Prezydencka z Toorank Polska is an alcohol falls inn to this category and therefore lands on the best tables in Poland and elsewhere.
Toorank plans to release limited amounts of whiskey from various barrels every year.
//John