Moon Harbour French Whisky is set to be Launched Very Soon.
Not only are we going to be The Most Original and Authentic of ALL French Whiskies WE WIIL BE THE BEST !!
It si all happening in Bordeaux, where else ?
THE most perfect climate for the Maturing of Spirits to take place.
If you have'nt visited Bordeaux, you should.
It is an unforgettable experience.
Please see photo of dressed bottle of our first Blended French Whisky @ 45.8% abv, matured in Sauterne Casks.
Wait for more information.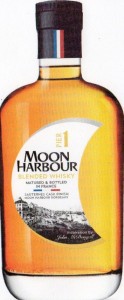 //John