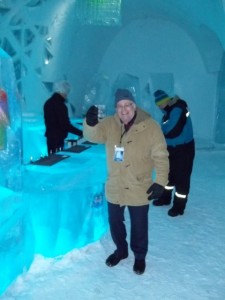 I have some really good experiences when I'm "On the Road"
This was when I visited The Ice Hotell, at Kiruna in the Artic Circle region of Sweden, last year.
The Temp. in the Ice Bar (Yes, even the glasses are made of ice !) was a quite warm -6 Degs. C. Pretty good when you consider that the outside Temp. was -35 Degs. C !
I am enjoying a modest libation which was poured by the Lady behind the Ice Counter, and who is wearing a Heavy Fur Jacket plus cossack type of warm hat.
The other pic. is of my Pal Anders Jonasson pouring us a good smoky Ardbeg, and you will readily see that he is in a somewhat warmer area of the complex.
SKOL !!