Lot's of fields of barley trying hard to ripen around my area…..I'm just thinking on avarage a 20 acre field (8 Hectares) should produce approx. 20,000 LPA. Or after 10 years in cask the equivalent of 41,142 70cl bottles at natural strengh.
This small field therfore will potentially produce around £600,000 for the british treasury between Duty and VAT. That's how important this business is to the UK!!!!
Actually I was speaking to my neighbour farmer friend yesterday, and he was telling me that the Barley harvest will be late this year due to the funny weather systems which we have coped with during 2015. I did notice myself that some fields still have much to do in the ripening process….we need quite a bit of sunshine.
Also, the Wheat crops around this area remain quite green and unripened in some of the fields. Again sun is required.
As I write this blog, early Monday morning 27 July it is Once Again Chucking it down with rain. So, poor Barley !!
One positive of course is that there should be no water shortages this year….and importantly today's rain is tomorrow' whisky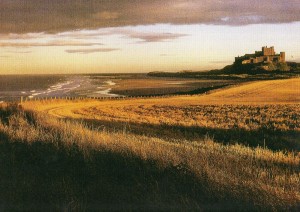 !!!
Pictured is a Barley field near to Bamburgh Castle in Northumberland, quite close to where we live.