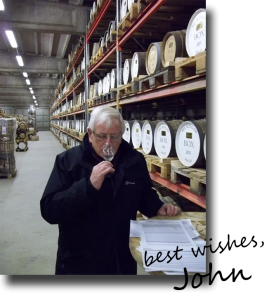 It is interesting to read all  about "Experts", and I know I keep re-visiting this issue.
Now I have no problem whatsoever with young people ploughing their own furrow. We have all done that, and it is a thrilling experience.
But please do not begin to purport to be a whisky Expert if you have not actually "shovelled the coal".
My dad began his own business in 1927, in another of GB's recessions, aged 19.
Therefore I was brought up in a household which was used to working hard for our living.
I was taught in a very hard school that one had to earn their position/status.
My life in whisky has/is superb, … a few hiccups along the way of course, just as you would expect.
So, let the so called experts live a bit hard, and mature, before the lecture !
//John