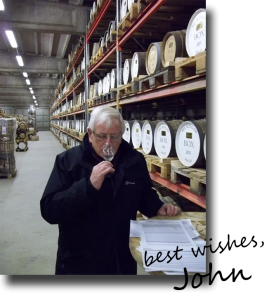 John McDougall is one of a very rare and elite group of people who have been Production Director or Manager of a distillery in all of the traditionally recognised distilling regions in Scotland and is arguably the most experienced Whisky Expert and best overall Judge of Scotch Whisky in the business today. This is recognised by his influence and presence in many countries world wide.
Campbeltown – Springbank Distillery
Islay – Laphroaig
Highland – Balvenie
Speyside – Tormore
Lowland – Ladyburn
Single malts from three of these distilleries (Laphroaig, Springbank, and Balvenie) are among the top selling single malts within the industry. Whilst at Springbank he became the first intentional distiller of Organic Malt Whisky, having earlier produced the malt from organically grown barley employing traditional means in the old distillery floor maltings, which he was responsible for resurrecting from being obsolete in the early 1990's.
CLICK HERE to read my collection of newsletters written for various forums and publications in Europe between 2000 and 2003
In addition to this, John has amazingly worked in, or been directly involved in 27 other Malt distilleries and/or new distillery projects: Aultmore, Knockdhu, Banff, Teaninich, Imperial, Balmenach, Dailuaine, Glenfiddich, Glenugie, Kinclaith, Ben Nevis, Bruichladdich, Bladnoch. He also consulted in the Kilchoman distillery in Islay-a distillery project in California, the Glann Ar Mor Distillery in Brittany, the Daftmill Distillery in Fife and Box Destilleri in Sweden, Dingle Distillery in SW Ireland, the massive Radiant Distillery Assam India, the London Distillery in Wandsworth, the Halber Mond Distillery Germany, and Moonharbour Bordeuax; 2 Grain distilleries, (Girvan and Strathclyde) and 1 Gin distillery, (Plymouth), and presently is busy in consultancy capacities in 5 new build distillery projects in Europe, (Scotland, France and Ireland) That totals an involvemant in 37 distilleries during his extremely varied career – This is probably more than anyone else in the industry – He was also General Manager of the massive Long John International warehousing, blending, bottling and distribution complex in Glasgow which, was the largest totally integrated operation of it's kind within the industry at that time in the early 1980's; stocks in excess of £1.5 billion value were stored!!
John has 54 years experience of working within the Scotch Whisky Trade – over 64 years, if you count the childhood and teenage involvement in his father's grain business, importing, exporting, buying and selling barley to maltsters and distillers – covering all aspects of production: barley purchasing, barley drying, malting, distilling, effluent treatment, warehousing, blending, bottling, quality control, distribution, commercial activities such as bulk sales and broking. He is the only person in the industry still alive, who has been in charge of distilleries in all of the recognised distilling regions of Scotland, and is the only Master Distiller AND Master Blender of Scotch in the world.
He has also concentrated his considerable energies on his bottling enterprise, of tiny batch single cask, single malt bottlings, and "Golden Cask Series" with his Partner Jane MacDuff. In May 2004 He brought out "John McDougall's Selection", Single Malt, Single Cask Malts. John McDougall's Selection and Golden Cask are now sold in 12 overseas markets as well as in selected prestigious outlets in the U.K. In 2004 he was instrumental in formulating, The Wild Scotsman Blended Malt, specifically for the US market, which contains malts from all of Scotland's producing regions. John is in great demand all over the world, and his first book, Wort, Worms & Washbacks was published in October 1999, reprinted in June 2000, then April and June 2003. Wort, Worms And Washbacks was sold throughout the world, and is probably the best selling book of it's kind to have been published featuring the whisky business. It is now available as an e-book. He has appeared on several Radio and T/V shows in Britain and the USA and took part in a T/V series for Scottish Television entitled "Scottish Legends".
John is a founder member of the Scandinavian Whisky Society, founded in 2002, the only non Scandinavian, in a Society limited to 500 members.
John's exceptional range of experiences is of great value, and will give any project with which he is involved, instant credibility and respect in all key markets around the world, and with all the major press.